The Great Outdoors – By Jack Gordon and Simon Phipps
29th April 2021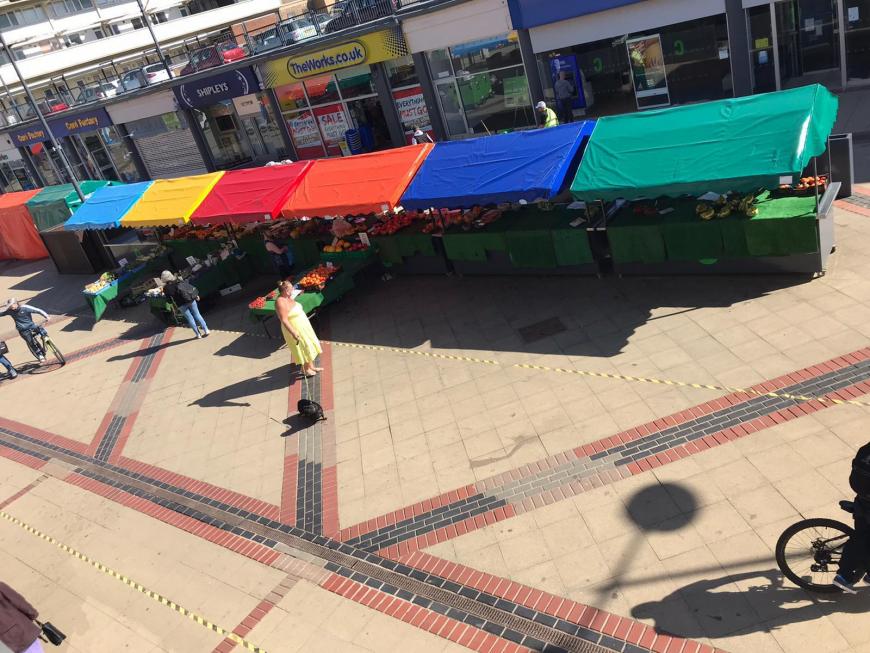 Corby Town Shopping & Willow Place is benefiting from being an open-air pedestrianised town centre as the Government restrictions are being lifted out of the third national COVID-19 lockdown.
Nearly £300,000 of private and Government funding has been invested in the town's public areas during the Lockdown period.  A total of £170,000 was secured as part of the Government 'Accelerator Grant'.
The popular Corby Market has seen a complete makeover and has been operating in various forms since the town was first built back in the 1950s.  It's located in the heart of the town centre and operates seven days a week. Whilst some traders such as greengrocers have been able to trade during the Lockdown months, the true vibrancy of the market will now return with a host of regular and new traders being able to operate from fully refurbished stalls with updated uniform bases, new LED lighting and multi-colour awnings, bringing some additional brightness to 2021. To complement the market stalls, new seating and a feature planter combined has been installed offering Corby customers an attractive place to rest as they go about their shopping in the town centre.
To the east of the town centre, improvements have been made at the main entrance which leads in from the new 470 space surface car park that opened in 2019. Shoppers had previously been directed around a hoarded area of the mall but now this area has been transformed into a new community space that is fully decked with new seating along the edge. This area boasts far-reaching views across Corby and has created a safe, open air public space that will now be able to host activities and offers such as food trucks, temporary traders and summer events for everyone to enjoy.
Sovereign Centros have also worked with restaurant operators to maximise their outdoor dining capabilities with Paletto Lounge (part of the Loungers group), extending their outside seating area and independent restaurant Posh Paddies (which opened just three weeks before the latest Lockdown) also installing two permanent outdoor seating areas which are now fully booked until well into May.
Café culture, outdoor dining and open air events have been on the increase in the UK for many years now and the investments at Corby have been made with a longer term focus in mind.
Whilst we all look forward to the reopening of the full indoor dining and leisure experience (currently targeted for 17th May), these Corby projects have been well-timed to coincide with the initial lifting of Government restrictions, taking full advantage of the great outdoors.